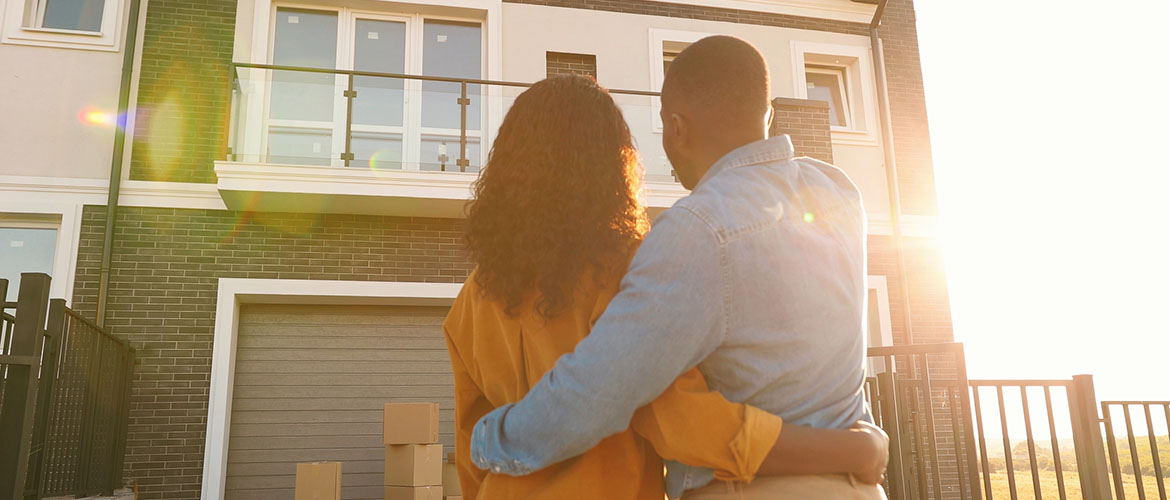 Buying a home can be both exciting and overwhelming for homebuyers, especially first-time homebuyers. It is incredibly easy to get swept up in the whirlwind that is home buying and make mistakes that could lead to buyer's remorse.
We spoke with our Lending Officers to compile a list of tips for first-time homebuyers that will help set you up for success as you start your home buying journey.
Tip 1: Prepare Your Credit
Just because your credit is good enough to qualify for a mortgage does not mean you should simply accept a loan offer and move forward. Often, improving your credit could mean you have a significant savings opportunity because lenders set different credit score thresholds when they price loans. When you move up from one credit score range into another, the lender may offer you a lower interest rate.
In order to raise your credit score, we suggest paying down your credit card balances, making sure you pay your bills on time, and put new credit applications on hold until further notice. Take your time and prepare your credit to the best of your ability before you apply for a loan. Just keep in mind, the sooner you start working on your credit scores, the more money you can save.
Tip 2: Figure Out How Much House You Can Afford
According to realtor.com, the median cost of a house in Oklahoma is $265,000. Figuring out how much house you can afford is imperative and should be tackled before you ever look for that perfect home. Why you might ask? Because falling in love with a house that does not fit in your monthly budget would be devastating. It is also essential to discover how much house you can afford because banks may offer you more of a loan than you are willing to pay for monthly. Many first-time homebuyers end up 'house poor,' which is something we would never want to encourage. 'House poor' refers to the amount of money you have leftover in your budget after paying your mortgage and other bills.
Figuring out how much house you can afford is all a part of balancing your budget to see what mortgage payment you can afford. Don't forget, when calculating your mortgage budget, you need to take into account homeowners' insurance and property taxes. Those will both affect your budget monthly. If you are unsure of local property taxes, reach out to your real-estate agent with questions.
Tip 3: Expenses to Expect When Buying a home
Every home that is for sale has a price tag, but there is a lot more to the actual cost of buying a house – for example, closing costs. Closing costs refer to lender and third-party fees that are paid to close a real estate transaction. For a $200,000 home, you can expect to pay $4,000 to $7,000 in closing costs. This also will depend on the type of mortgage you are using. Several loan options for low down payment, and even USDA loan type programs that have no down payment needed; income and eligibility requirements for these programs will apply.
Another expense you should be prepared to cover are title-based fees. You will usually see charges for a title search, title settlement, title insurance binder, and title insurance. You should also be prepared to pay survey fees, escrow fees, earnest money, appraisal fees, state recording fees, prepaid property taxes, homeowners' insurance, interest, agent commissions, and HOA/condo fees should that be applicable to your home purchase.
Tip 4: Save for a Down Payment. Do You Need To?
A common misconception for first-time homebuyers is that they need to save 20% for a down payment. Though a 20% down payment is helpful, it is not necessary for a first-time buyer. There are many down payment assistance and low-down-payment programs available to first time home buyers. Call us and see if a zero down payment program is best for you. Income and eligibility guidelines apply.
At Welch State Bank, we offer 100% financing, low closing costs, long-term competitive rates, fixed-rate, and adjustable-rate home loans.
Tip 5: Create a Feature Must-Have and Wish List for Your Home Purchase
Before you begin house hunting, make a list of must have's and wish list items that you hope to have in a home. For example, do you want a bathtub in your master bath? What about a fenced-in backyard or an actual laundry room that has room to fold clothes in? Some items in homes are easy to change, such as the color of the walls or the fixtures throughout the house. When you craft your must-have list, keep that in mind, as some things may not need to be a deal-breaker and can be changed down the road.
This list should be an easy list to reference as you are on your house hunt. Sometimes it is easy to get wrapped up in the joy of finding a home that you feel is perfect, and you forget about some items that you felt were supposed to be in your house. Your list will help hold you accountable to your desires and help you to better decide if a house is worth it or not.
Tip 6: Educate Yourself on Home Loan Types
At Welch State Bank, we offer every type of Home Loan product available. We have:
Fixed-rate Loan – This is the most common type of conventional loan. It describes a loan that has a single interest rate and monthly payment for the life of the loan, which is typically 15 or 30 years.
Adjustable-rate Mortgage – Unlike fixed-rate loans, ARM offer mortgage interest rates that are typically lower than you would get with a fixed-rate loan for a period of time, such as five or ten years. After the five or ten years the mortgage will adjust at a new rate for the new fixed period of time.
FHA Mortgage – FHA loans typically require a down payment of as little as 3.5%, whereas a typical home mortgage requires a down payment of 20% of the purchase price of your home.
VA Loan – If you have served in the United States military, a veteran's affairs loan can be a great alternative to a conventional loan. Should you qualify for this type of loan, there are no down payment or mortgage insurance requirements.
USDA Mortgage – Another government-sponsored home loan is a USDA Rural Development mortgage that is designed for families in rural areas. With USDA mortgages, there is no down payment necessary and discounted mortgage interest rates in excess.
Curious about certain types of loans? We are here to help! Contact one of our Loan Officers and they will be happy to answer all your questions!
Tip 7: Work with the Right Home Lender
Many people think that you should always go straight for the mortgage lender that offers the best rate, but there are so many other factors to consider. Mortgage lenders vary in types and sizes and offer different products and services. We suggest interviewing mortgage lenders about their specific experience, turnaround times, and rate-lock options.
Another thing to consider is customer service. Did you fill out an online request for information and receive a prompt phone call return? This may seem like a silly question to ask yourself, but it is important that you work with a lender that prides itself on prompt customer service. At Welch State Bank, we have been voted the best Mortgage Lender in Ottawa County for 17 years in a row. Our customers come to us for their lending needs because they know we will care for them like they are family.  We are with our customers every step of the way, offering one-on-one customer service; making this an exciting, simple, and memorable experience. Call us today and let's get started.
Tip 8: Get Pre-Qualified for a Home Loan
Once you have saved an appropriate amount for your down payment, it is time to get pre-qualified for a mortgage loan. This prequalification letter will allow homeowners to know that you are serious and ready to move forward with an offer. It will also help you ensure that you have all of your ducks in a row in order to move into your dream home.
At Welch State Bank, we understand that searching for a mortgage loan can be an intimidating process. We are here to help by going through your needs to find the best mortgage loan for you. Don't let all the fancy words scare you when it comes to purchasing a home of your own – we'll take care of it.
Our most popular loan option is the USDA loan, and the reasoning behind this is clear. USDA loans are a great option for first-time buyers, have no down payment, 100% financing, finance closing costs, flexible credit requirements, and competitive low fixed rate options.
Tip 9: Research Neighborhoods for Your Best Fit
As you search for the perfect house in your price range, be sure to consider the neighborhood/community in is within as well. To find the perfect home in a quality area, we suggest researching crime rates and local school information for prospective neighborhoods, even if you don't have school-age children. This is because if you choose to eventually sell your home again, homes near good schools are likely to sell faster than those that are not.
We also recommend visiting the area both during the day, at night, and even on the weekend. You do this so you can fully grasp what living in the neighborhood will consist of. If you do not have time to go visit the neighborhood in excess, that is okay too. The internet is a valuable resource for information. Start by Googling the street address and looking for photos from years past from both the residence you want to purchase and that of the street. The insight you find might be a pleasant – or unpleasant – surprise.
Tip 10: Make a Competitive Offer on Your Dream Home
So, you have found a house you love that is in your budget, and you decide to make an offer. Because you have already been pre-qualified, it is incredibly easy to make an offer. As a first-time homebuyer, it may be difficult to know how much to offer, but your realtor can help you with this by crafting a competitive market analysis (CMA). This CMA will help you understand what homes are selling for in that neighborhood and thus be able to guide you towards a reasonable offer. Negotiating offers happens rather quickly when it comes to buying a house, so if your initial offer is not accepted, be prepared with a counteroffer.
A tip we find makes a lasting impact when submitting an offer is this: Should you be worried about other offers on the table or your offer letter not standing out, consider writing a personal letter to accompany it. Include photos and information about what you like about the home and how you can see your future being there. Be sure to never mention what you want to change in the home; just list what you love about its current status. Let's face it; people want to work with people they like. This letter will allow your seller to develop an emotional connection with you that may lead them to sell you their house even if it is not the best offer on the table.
Tip 11: Welch State Bank Lenders are Here for You
Your first home buying experience is a big purchase, maybe the biggest purchase you have ever made. It is incredibly important to be fully prepared before making that big purchase. Should you have questions or concerns, the Loan Officers at Welch State Bank are here to help guide you through the process. Our goal is to help you buy your dream house with no overwhelming fear or worries. We have your best interest in mind, and we want to help you succeed.
Come in and see why we have been voted best Mortgage Lender in Ottawa County for 17 years in a row. Remember – we are here with you every step of they way.