We have the services you need to run your business smoothly, and we have the experts to assist with questions regarding our Business Service Products. Best of all, we set up your services, and we're tech support. You will only have to call one place to get the job done, Welch State Bank!
Being the Boss just got easier! 
Business Banking Services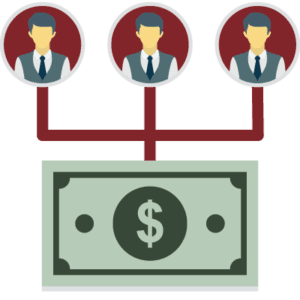 CASH MANAGEMENT | Setup Payroll for your Business!
Cash Management is a service within online banking that gives business customers the ability to create an Automated Clearing House (ACH) entries, Electronic Funds Tax Payment System (EFTPS) and Wire Transfer requests. ACH entries are often used for direct deposit of payroll but can be used for many other purposes such as direct collection of monthly membership fees, moving funds to and from other institutions, and payment remittance. Transactions can be occasional, variable recurring, one-time, fixed reoccurring, and all can be either debit or credit entries.
Because of security requirements and sensitive nature of the information you transmit, you must be pre-authorized to use these services.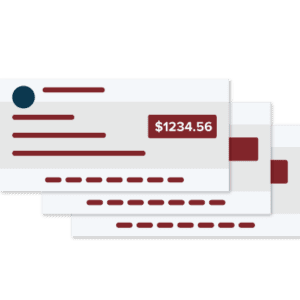 DIRECT MERCHANT | Make Deposits from your office!
Direct Merchant is often referred to as Remote Deposit Capture. This service gives you the ability to deposit checks from the convenience of your office! This service is not only convenient; it can save you time and money by limiting the trips necessary to make your deposits. There is no equipment to buy and we assist you in installing a small check imaging device.
Important Note: You cannot deposit cash via Direct Merchant. There may be fees associated with the use of this product. Welch State Bank provides the scanning device and retains ownership in the scanning device for the length of the service. You retain the original scanned checks for 90 days then destroy them. The deposit will be credited in accordance with our Funds Availability Policy.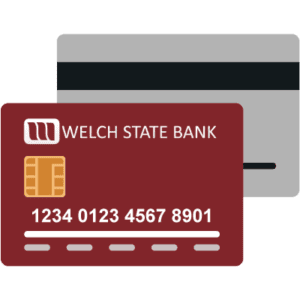 CREDIT CARD MERCHANT | Accept Card Transactions at your Business!
It's hard to run a business if you cannot accept credit or debit cards. We can help! Businesses incur big losses in accepting checks due to fraud and returned checks. Merchant Services can help you control your risks and improve cash flow.
If you run a business, chances are you have been approached by salespersons offering a credit card merchant package that is too good to believe. When you compare apples to apples, we will be more than competitive.
For more information on this great service, please contact us at 918-544-9100 and ask to speak with Jay Victor, Tina Tristan, or Teresa Patrick. Or email us at help@welchstatebank.com.
Banking On The Go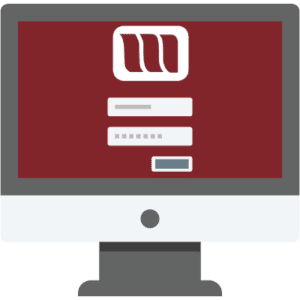 Online Banking
Online Banking is safe, secure, FREE and is never closed. It's Banking at your fingertips!
It is a real-time system, so you can see up-to-the-minute account activity. Enjoy paying your bills online for FREE, reordering checks, managing balance transfer requests, set up recurring bills to be paid automatically, paying your Welch State Bank loan, viewing account history, and digitally viewing check images. Bank at the speed of you!
Optional free business bill pay, wire requests, reordering checks, Electronic Federal Tax payment System (EFTPS) payment, and download transactions into Quicken or QuickBooks Pro.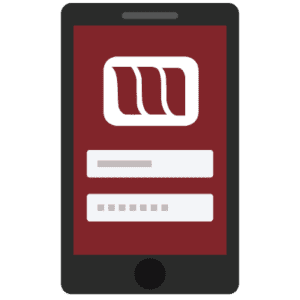 Mobile Banking
It's like having a Welch State Bank branch at your fingertips! Mobile Banking safe, convenient, FREE* and it's never closed. Bank anytime, anywhere! 
Mobile banking with Welch State Bank will allow you to check you account balance(s) and easily search your transitions, transfer funds between your accounts, make payments on your Welch State Bank loans, find nearby branches and ATM's, and deposit checks with the snap of a picture.
*Standard mobile web fees may apply. Please contact your mobile carrier for more information. *Third Party Message, Data or ISP fees may apply.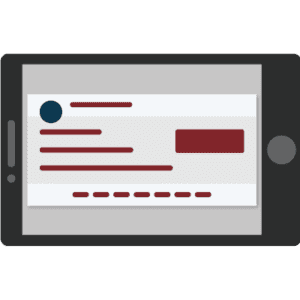 Mobile Check Deposit
Not able to make it to a branch location? No problem! All you need is our Mobile App to snap a picture and it's done. Snap. Send. Deposit
Deposit checks easy, right from our app!  Call today to get this amazing feature activated!
Standard check limit is $5,000 for a rolling 7-day period. Any checks deposited must be endorsed with the words For WSB Mobile Check Deposit Only. We recommend a 90-day waiting period before you destroy any Mobile Check Deposit images via secure disposal method. 
*Standard mobile web fees may apply. Please contact your mobile carrier for more information. *Third Party Message, Data or ISP fees may apply.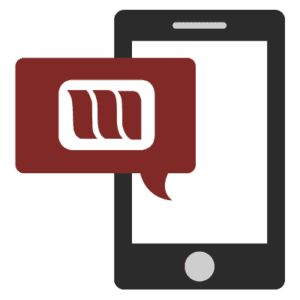 Text & Voice Banking
Retrieve balances and review transaction history via text message*. You can setup Text Banking through your online banking account.
If you don't have Internet access, you can still access your account balances, transfer funds, and obtain transaction history by phone. VoiceAccess utilizes the latest voice recognition technology so you only need to speak your account numbers and personal identification numbers and the system will provide the requested information. The phone numbers are: Local: 918-788-BANK (918-788-2265) Toll Free: 1-888-42WELCH (888-429-3524) Need assistance? Email help@welchstatebank.com or call 918-544-9100 and ask for Online Banking Support.
*Standard mobile web fees may apply. Please contact your mobile carrier for more information. Third Party Message, Data or ISP fees may apply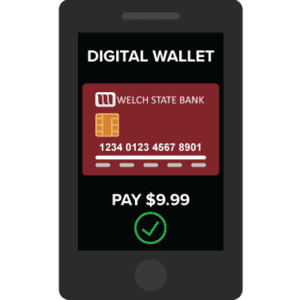 A new way to pay
Simply add your Welch State Bank Debit Card to your mobile wallet and start making purchases at participating merchants in-store, online, in-apps, or anywhere contactless cards are accepted.
Premium Banking Features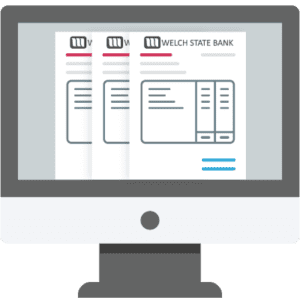 Electronic Statements
eStatements are interactive and fully searchable. Save them, archive them or print them. There's even an online reconcilement form for you to use! We can even set up online banking access for your staff and your accountants. You can limit how much information they can have access to. You can download them as an Adobe PDF and email them if you prefer. No more making copies and hand-delivering copies to the account.
All electronic statements contain the same information as our paper statements but are more secure because they can't get lost in the mail. We keep a minimum of 5 years of eStatements available online for your convenience.
Try eStatements for yourself. Simply log in to Online Banking and click on the account you would like to receive and electronic statement. From there you will click on "Statements" on the right side and follow the instructions to enroll. Need assistance? Email help@welchstatebank.com or call 918-544-9100 and ask for Online Banking Support.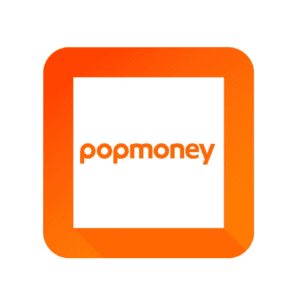 PopMoney
PopMoney is a service available as part of online bill pay that makes it possible to send money electronically to friends, family, or anyone else that you would pay with cash or check. All you need is their mobile phone number or e-mail address to get started and the recipient will receive funds within 1 business day after they accept the funds via Next-Day or Express Delivery or 3 days after they accept funds via Standard Delivery.
There is a flat fee of $0.55 per PopMoney transfer, with a $5.00 minimum transaction. For your protection, limits have been created on how much money and how many payments can be sent during various times periods. Click on the "View Limits" next to the "Amount" fields to view your available limits.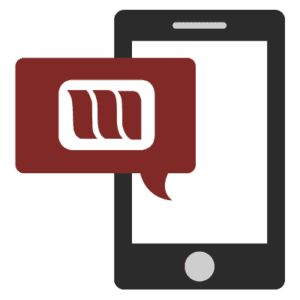 NotifyMe
Our online banking system can send you emails or send text alerts to your cell phone. You determine the threshold when you want to be notified for various account activities such as large transactions, low balances, or even if a particular check clears your account. We call this service NotifyMe, and it is included free of charge with our online banking services. Online Banking is ideal for business! It has all the above features plus more even more services to meet the special needs of a business. Need assistance? Email help@welchstatebank.com or call 918-544-9100
*Standard mobile web fees may apply. Please contact your mobile carrier for more information.
A New Way To Pay
Add your WSB Debit Card to ApplePay, GooglePay, and SamsungPay today!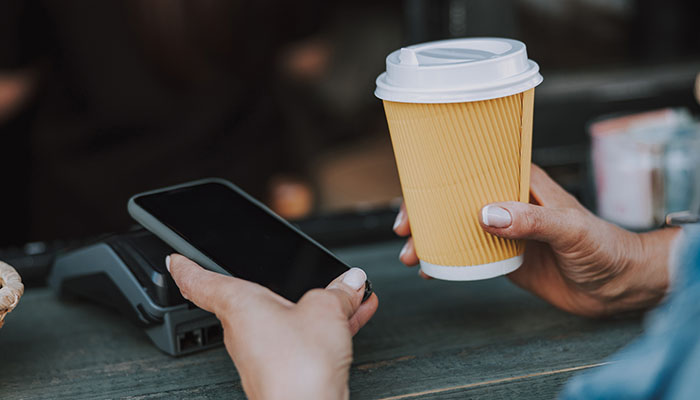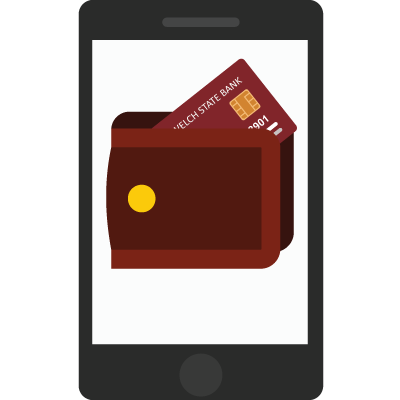 Step 1
Open your phone's Wallet App. Setup will vary from smartphone devices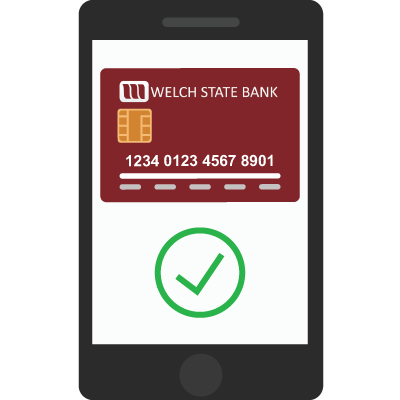 Step 2
Add the card by entering your card details. Follow onscreen instructions to complete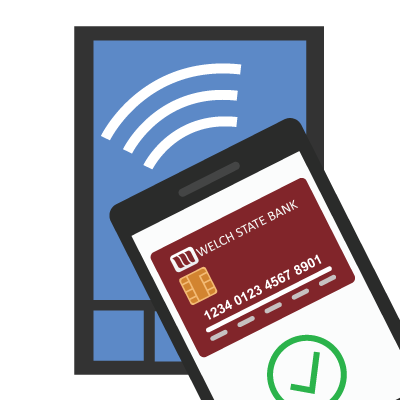 Step 3
Start using your digital card at participating retailers, in store, and online. Ask us for more details!
Banking FAQs – Help by Product