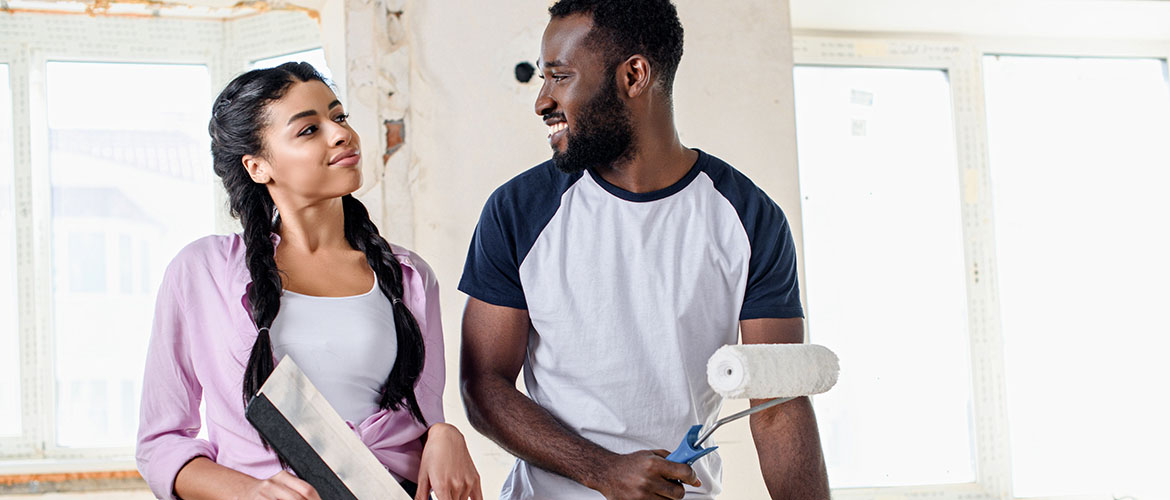 Are you looking for a big return on your home improvement projects? Sure, remodeling your home adds to your enjoyment, but did you know that it also helps boost your home's value over time as well? You see, when selling your home buyers look for a clean, well-kept home with modern updates.
Before you decide what projects you would like to spend big bucks tackling in your home, let's break down the 5 home improvement projects that are known for yielding the most in return.
Window Replacement
Window replacement projects have withstood the test of time in regard to home improvement projects that offer some of the highest ROIs. Choosing to replace old and damaged windows in your home can add real value and may be the most efficient use of your rehabbing budget. The reason for this is that new windows increase curb appeal, value of your home, and efficiency. Let's be honest, there are no other remodeling projects that accomplish so many things.
On average, replacing windows costs $17,461 in upfront added home value and returns 72.1%. When searching for new windows, look for low-energy vinyl window replacements. These windows can reduce your homes carbon footprint for years to come, as well as significantly lower both heating and cooling costs.
Roof Replacement
If you think your existing roof will cause issues with home sale, a roof replacement is the way to go. When looking at your roof to decide if it needs to be replaced, look for these flags that negatively impact your curb appeal.
Buckling shingles
Cracked shingles
Sagging roof
Lost granules
Leaks
Recent wind or hail damage
According to Zillow, the average roof replacement costs $22,636 with a 68.2% ROI. 2019's Cost vs. Value report found that the average $22,000 roof replacement increased the home's value by $15,427. Many real estate agents value a new roof as an effective selling tool. Buyers are attracted to homes with new roofs as they know it will save them from having to do replacement or repairs. Your roof is a key factor in the curb appeal of your home and thus how your exterior looks. Curb appeal is critical to get buyers interested in your home and is your first chance to impress them.
Wooden Deck
One of the most appealing home renovation projects for increased resale value is adding a brand new deck or working to improve an aging deck. Decks provide a perfect setting for an afternoon BBQ or a relaxing evening with the family, and they help create a backyard oasis that so many buyers crave.
The average wooden deck addition is $13,333 and has a resale recoup of 75.6%. In knowing these numbers, it is important to understand that all research shows that using real wood as oppose to a more expensive composite wood deck allows for a higher ROI. An example of this is a composite deck that costs $36,385 to build would recoup only $21,437, offering a 58.9% ROI.
In addition to the straightforward value, it is important to consider the overall attractiveness that a quality deck offers prospective buyers. It greatly increases curb appeal and is perceived as extra living space that will no doubt translate to more offers and a faster home sale.
Bathroom Remodel
In the hottest housing markets, springing for a bath remodel is a sure-fire investment that is said to return more than 100% in cost. Bathrooms are known for being one of the most expensive areas in the home in terms of construction, but it is a remodel that buyers seek out because it most definitely plays a role in how much you enjoy your home. You may not spend hours in your bathroom on a daily basis, but it is also not an area that you are able to avoid either.
Remodeling Magazine's 2019 Cost vs. Value Study notes that on a national level the average cost of an existing mid-range bathroom renovation costs $20,420. Why is the cost of remodeling so high? It's because there is a lot that goes into bathroom renovations that has the potential to cause the average cost to balloon. But just as we mentioned in regard to kitchen remodels, spending more on a bathroom renovation doesn't necessarily mean getting more in return. The goal is to update the space. Choose to refresh the tile, replace the counters and toilets. Look for trendy lighting.
Kitchen
The kitchen is not just a place to cook and eat. It is where people spend most of their time congregating with family and friends, where homework is completed, and where major decisions are often made as a family. When you spend time and money creating a modern-looking, functional kitchen, it adds more than just value to your home.
An updated kitchen improves functionality, helps better service your family's needs, allows the kitchen to fit one's personal style, increases energy and water savings, and of course – boosts your homes resale value.
According to Home Advisor, the average minor kitchen remodel costs $25,103, with an expectation of 80.5% recouped cost. Impressive, right? In addition to that, what should be noted is that you do not have to spend big on a kitchen renovation to see a return in investment. The most valuable home improvements for minor kitchen remodels include modernizing cabinets and countertops, upgrading appliances, sinks and flooring. In knowing this, you can look at your kitchen and better see what aspects of it need to be overhauled should a complete revamp not be in your budget. No matter how large or small, any kitchen upgrade will offer a positive ROI. Remember, there is perhaps nothing else that can sell a home faster than a kitchen. Make sure your kitchen is on par with the competition, if not better.
These five home improvement suggestions for increased value are the top ways to get a higher ROI. But if you are not planning to move in the near future, we want to encourage you to spend your money remodeling in ways that you will most enjoy. At Welch, we offer Home Improvement loans that will help you increase your homes value. If you are looking to upgrade your HVAC, roof, windows, flooring, or another area of your home, give us a call today. Our lending experts are here and ready to speak with you about your desired upgrade.